Why You Should Look Beyond Attributable Sales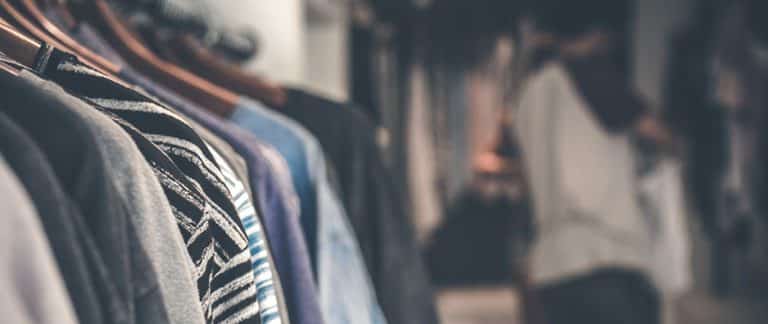 Many personalization companies are tempted to use attributable sales as a metric for measuring the value generated by personalization. While it is important to have a healthy level of attributable sales to ensure your shoppers are engaging sufficiently with personalization, aiming to maximize attributable sales will ultimately result in degraded performance, and even a loss in revenue. That's because the attributable sales metric does not take into account the impact of the following 3 phenomena:
Overlap – the portion of items that are included in attributable sales that would have been purchased regardless of personalization and/or recommendations (in the absence of personalization)
Cannibalization – the reduction of an order value due to recommendations of a less expensive item (the shopper buying a less expensive item than they were ready to pay)
Shopper Distraction – distraction that might occur when shoppers begin overly browsing products instead of purchasing products in their basket (leaving the site without completing a purchase)
Attributable sales do not always measure incremental revenue. But we can detect value signals by slicing the attributable sales into meaningful groups, ones that map to how personalization can enhance the shopper's experience across the customer journey.
Consider recommendations that surface recently viewed items versus recommendations that facilitate cross-selling.  The former is used by the shopper to navigate back to products she already saw (lots of overlap!), while the latter can surface complementary products that she may not have previously considered. You see, the value generated by the recommendations depends on the purpose those recommendations are serving. Not all attributable sales are equal. The goal should be to use recommendations in such a way that they are generating maximum incremental revenue, not maximum attributable sales. At RichRelevance, we like to suggest that our customers only look to attributable sales when they do not fall under any of the 3 phenomena described above.
To further demonstrate how to best measure the impact of personalization, let's take a step back and review why we are personalizing to begin with:
To help customers with discovery, surfacing items or categories the shopper may not have otherwise thought to consider.
To offer suggestions for similar items within the same category that might better suit a customer's preferences or needs.
To facilitate the purchase of complimentary items, also known as 'cross-sell'.
To make navigation easier by displaying items the shopper previously viewed.
Consider the below comparison of Client A and Client B. The majority of Client A's attributable sales are derived from Discovery and Similar Items Recommendations. Those contain a significant amount of of Overlap, Cannibalization, and Shopper Distraction as customers are using recommendations to purchase an item that they otherwise would have purchased. In this situation recommendations are resonating with customers and helping them identify the best item for them, but are not necessarily adding incremental revenue or items per order to the session.
Client B has about the same amount of its attributable sales coming from Similar items, however, the second largest share comes from Cross-Sells. Client B's attributable sales are more likely to be incremental than Client A. All things being equal, with respect to personalization, I would consider the personalization profile of Client B superior.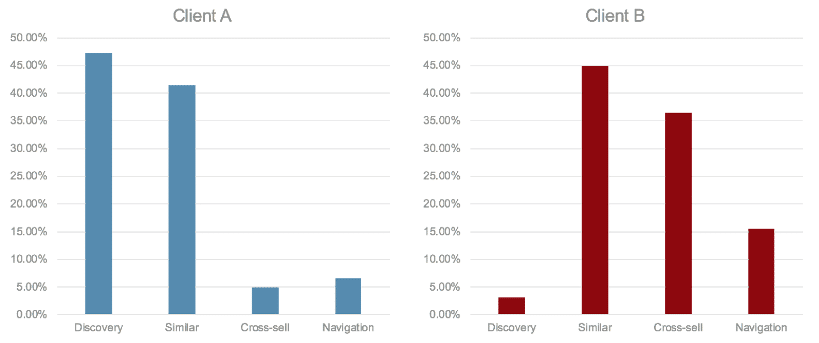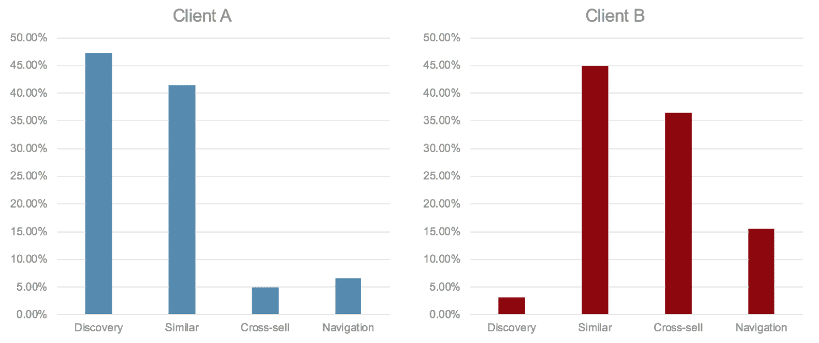 For these reasons, we encourage our customers to also consider Revenue Per Visit when measuring the value of their personalization efforts. This metric helps customers uncover how to they can get the most value out of personalization across all their touchpoints, throughout the customer's lifecycle and journey. Revenue Per Visit measures the amount of additional revenue personalization drives every time a customer visits your site. This will help optimize for cross-selling and in some cases discovery rather than recommending alternate items within the same category. While all visits don't have revenue, we measure the impact of Personalization by determining incremental spend, or how much MORE, people spend on average when engaging with recommendations.
We encourage our customers to be thoughtful and deliberate about how personalization is used across the customer journey. Ensure your placements are located in places where shoppers can engage with the personalization. Configure the content of those placements to minimize Cannibalization and Shopper Distraction. And finally, if your goal is to optimize for incremental revenue, focus on enhancing your Cross-sells. This can be done by incorporating your offline data into the wisdom of the crowds models, creating data-driven Advanced Merchandising rules using compatibility or complete the look data, or building a custom strategy using your proprietary business intelligence using Data Science Workbench.
To learn more about optimization best practices reach out to your CSM directly or contact us at personalize@richrelevance.com.