Online businesses recognize the need to deliver a connected shopping experience that is memorable, inspiring, but above all, is tailor made for every individual, regardless of their stage in the buying cycle
With RichRelevance Hyper-Personalization suite, you can get a leg up on your competitors with the most comprehensive advanced and proven personalization solutions.
RichRelevance named leader in Gartner's Magic Quadrant for the second consecutive year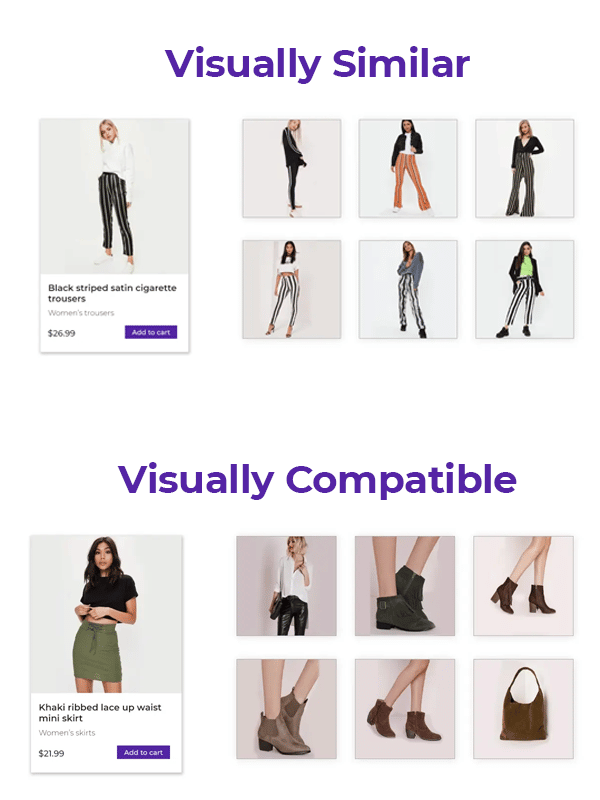 Deep Recs – An Industry First
Personalize Recommendations Like Human Experts
Traditional recommendation engines fail if there are no historical events and behavioral data. Deep Recommendations use deep learning neural nets to extract a product's visual and text features, and generate highly relevant recommendations in real time, just like an expert store associate.
Results: 40% average lift in engagement and 80% higher attributable sales
"We instinctively knew that using visual aspects of a product for recommendations is effective in fashion and lifestyle business – it's much closer to the expertise of our merchandisers. I am excited with early results – our engagement is up 40% over our merchandising rules, and revenue per 1000 impressions has increased by 19%, compared to the other recommendation models."

Sylvain Lys – Head of Omnichannel Customer Experience, Promod
Personalized Search
Leverage Behavioral Data to Re-Create Search Results
The search bar is a potential conversion machine. It ensures higher product 'findability', that means higher engagement and 5X higher conversions. RichRelevance's FindTM can help you display personalized results, using an individual's behavioral data across recommendations, content and browsing.

Unique Wisdom of Crowd
approach that reduces instances of zero results, and indexes new search terms automatically

Real-time Catalog Indexing
that updates attributes from the catalog as it changes, ensuring you don't show obsolete results, especially for attributes such as price and availability

Combined Content and Search Results
that returns personalized content such as recipes, how-to-videos and blogs, along with products, to engage your customers and build conviction
"Personalized search results have delivered such a massive improvement. Conversions resulting from search now are 5 times the conversions without search!"

Anton Paasi, Head of eCommerce – Verkkokauppa.com
Configurable Strategies and Models
Empower marketers and merchandisers to rapidly create new personalization
Rigid personalization models don't work for every scenario and require data science intervention for customization. With configurable strategies, non-technical users can test their hypotheses without any coding – for example, they can create a new model with just a few clicks, change weights of attributes (such as color, composition, price, brand), customize lookback periods, or add additional filters.
AI Driven Decisioning that Exceeds Engagement and Conversion Goals
Deliver the winning experience for each context
To create the right experience, you need
Exhaustive library of strategies (ML algorithms, deep learning models and statistical techniques) that cater to your business goals – engagement, margin maintenance, cross sell, re-engagement, order value etc.
An intelligent mechanism to dynamically select the highest performing strategies for each customer and their context, by making them compete continuously
With Xen AI and our ensemble approach to predictive decisioning, you can be assured your goals are met without laborious manual testing.
Further Reading
Explore our wealth of thought leadership and best practice content designed to help innovative retailers and brands improve even more.
Data Sheets
Learn how to promote new and long-tail products immediately.
White Papers
Learn more about Hyper-Personalization: the pinnacle of personalization for marketers.
Webinars
Learn how to get your shoppers to log in by demonstrating the value of a more individualized experience.