WINTER 2019 RELEASE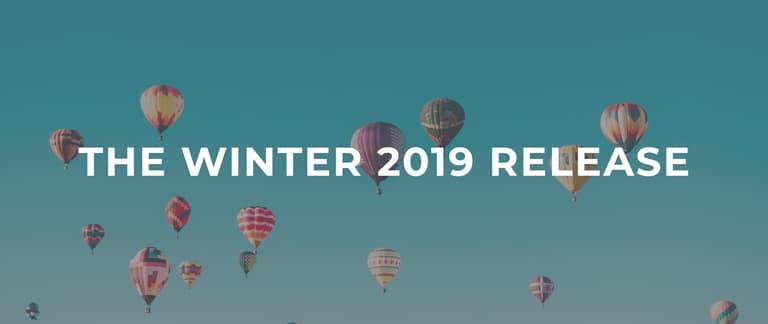 MAKING THE LEAP TO HYPER-PERSONALIZATION
One trend continually on the rise is shopper dissatisfaction with what once passed for personalization. More so than ever before, your customers want and even demand that you know them better, understand their individual needs, and inspire them to continue shopping. The time has come to rethink personalization by making the leap to Hyper-Personalization. With Hyper-Personalization, and the new features launched in support, we allow you to take the next evolutionary step and do what the marketing clouds and rest of the personalization industry can't: deliver real-time personalized and shoppable experiences at the individual level.
Below, we detail out the key features that will help you deliver on the promise of the shoppable experiences your customers crave and all the innovation within our Winter Launch 2019.  Read on for a short summary of each.
Please Note: Most features are in General Availability or Beta now. Please contact your Customer Success Manager (CSM) to learn more about how to activate a specific feature or how to participate in our "Early Adopter" programs.
RECOGNIZE ME
"Know" Shoppers as Individuals, Not Just as a Segment
NLP for RECOMMEND™
Personalization traditionally works best when you have tons of user behavioral data for each product. But, how do you personalize for new products or niche ones? Until now, it wasn't possible. With the release of our new NLP (natural language processing) for RECOMMEND, personalizing for new and long-tail catalog items happens immediately. With NLP strategies you can now leverage all of the rich feature characteristics (descriptions, styles, ratings & reviews, etc.) associated with your products in your recommendations. This is a game-changer for retailers/brands that regularly introduce or quickly cycle through new styles or seasonal catalogs, making it possible to personalize and expose shoppers to relevant products through cross-sell offers from the start, as well as increase the relevancy of your recommendations as they move through the funnel. And it's only available from RichRelevance.
Platform Enhancements – Vector Model Service and New Run-Time Strategies
The Vector Model Service is a new, flexible framework that allows us to deploy computationally intensive strategies like NLP, quickly incorporate new deep learning algorithms as they are developed, and learn faster from shopper behavior in real time. With the new framework we can now, for example, re-rank recommendations in "real" real time in-response to in-session behavior, improving relevancy based on in-the-moment shopper intent.
UNDERSTAND ME
Uncover "Why" Shoppers Buy, not Just "What"
Auto-Discovery of Behavioral Segments
The complex and volatile nature of digital commerce makes it increasingly difficult to extract actionable and timely insights from your customer data. You can easily spend your entire analytics budget and still come up short.  With Auto-Discovery of Behavioral Segments, we replace inefficient and costly manual analytics and workflows with Xen AI driven machine learning algorithms that automatically discover new and interesting behavioral segments and a visual, web-based tool for reviewing and acting upon them. With the new feature, you can quickly uncover new and interesting segments by brand, category, or product – like customers that spend the most but convert the least or vice versa – and target them with hyper-personalized cross-sell campaigns and offers.
New Browser- and -Dashboard Based Insights
The Winter Launch marks the release of the next generation Experience Browser and RichRelevance Dashboard. The updated web tool not only gives you a way to automatically discover and act upon valuable behavioral segments (see above) but also new visual reports to engage and empower merchandisers and provide even greater visibility and insight into the decisions being made by the Experience Optimizer. New reporting and visualizations for the Dashboard allow you to drill even deeper down into performance across multiple dimensions and metrics, spot trends, and extract actionable insights for increasing conversions and revenue at every point across the funnel.
INSPIRE ME
Inspire Customers to Shop, Not Just Buy
The Experience Designer
With the Experience Browser, we offered the industry's first and only browser-based tool for generating deep insights into the performance and inner workings of your personalization. This winter, we take the next step with the launch of the Experience Designer. Like the Experience Browser, the Experience Designer is a web-based tool that overlays directly over the web page in your browser. With the Experience Designer, marketers can now create, execute, and edit content-based placements and campaigns directly from the live web page, without navigating to another tool or IT intervention. It's a game-changer for marketers that want to launch, change or test campaigns on the fly, as well as extract maximum value from the content in their libraries.
FIND™
Combined Product and Content Search – the Next Generation
With the release last fall of the combined Content and Product Search for FIND, we gave you a powerful one-two punch that helps educate, guide, and ultimately move customers through the purchase funnel. The updated feature takes it a step further, adding personalization to the content search — with sliders allowing you to weight the influence of behavioral data across multiple dimensions–and Wisdom of Crowd to improve overall search relevancy. The new updated feature makes it even easier to better engage and build trust by serving shoppers the related content they want and need to support their search experience. And it's only available from RichRelevance.
FIND™
Wisdom of the Crowd (WoC)
Manually personalizing search for unknown visitors can be a fool's errand, eating up tons of time and expense and providing comparably little in return. The release of FIND Wisdom of the Crowd this winter is a boon to merchandisers, giving them the tools and controls they need to automatically increase relevancy without the use of manual rules or need to maintain synonym dictionaries. The new feature automatically collects and aggregates shopper behaviors – like clicks, views, and conversions – and uses the learnings to boost the relevancy of each search response in real time. WoC can also be used to increase the relevancy of search for known shoppers. WoC for search is another feature unique to RichRelevance and just one of the many capabilities separating FIND from everything else on the market.
ENGAGE™
Dynamic Experiences
When it comes to shoppable experiences, marketing clouds talk a good game but quickly get exposed at delivery. With the launch of ENGAGE Dynamic Experiences, we go beyond talk with a set of AI-driven, dynamic self-service tools that any marketer can use to personalize content and offers at key moments of the journey. Dynamic Experiences comes out of the box with 9 dynamic templates – covering everything from promotional headers to pop-up recommendation widgets – that can be executed across 4 key triggering events: Page Load; Time on Page; Time on Site; and Exit Intent. The new feature, which includes the ability to automatically optimize the placements for conversion and revenue – empowers marketers to act on the fly while enabling closer collaboration with commerce.