Business Insider — "Facebook Drives The Most Traffic To Retail Sites"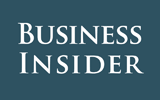 Facebook beats out Pinterest and Twitter for driving the most traffic to retail sites.
Facebook makes up for a staggering 86 percent of retail traffic, while Pinterest drives 12 percent and Twitter 3 percent, according to an infographic by commerce consultants Rich Relevance.
To be fair, Facebook has the most users of the three.
Still, it's interesting to see Facebook driving so much social traffic, given recent doubts about whether its useful for retailers.