Christmas in January?
I know the absolute last thing you want to be thinking about right now is the Christmas holiday, but this year RichRelevance is giving you your gift early. Today we released our "12 months of Christmas" white paper—chock full of best practices for retailers to help jump start their Holiday 2012 season planning.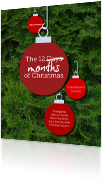 For every month, we offer insights and best practices on ways to maximize your efforts in a variety of fields, including:
Cross-Channel Marketing
Mobile
Search
Social Media
Email Marketing
You're invited to get ahead of the curve, and start utilizing all of the opportunities you have at your fingertips right now to make your next holiday shopping season your best ever!
Happy (early) Holidays!