2019 EMEA PERSONALIZATION SUMMIT RECAP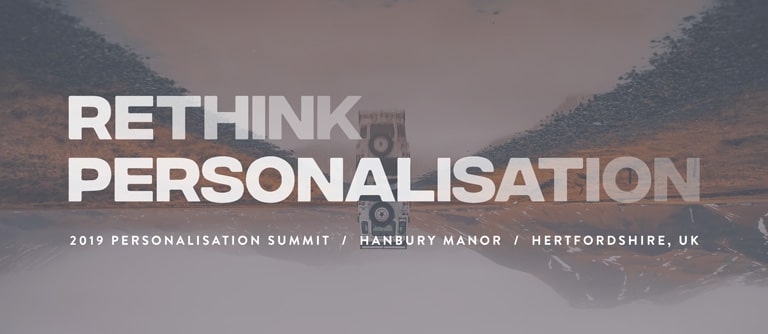 RETHINKING PERSONALIZATION AND DELIVERING ON SIGNATURE MOMENTS
This time last week we were wrapping up our 8th annual RichRelevance Personalization Summit in EMEA. As always, we sought out a unique venue removed from the hustle and bustle of the busy streets of London where we could bring together international brands and retailers for an evening of networking and dinner, followed by a day of thought leadership, personalization success stories, and announcements of innovation on what's to come for RichRelevance in 2019 and beyond.
We're excited to share that this year we took the event a to new heights at the Hanbury Manor in Hertfordshire, UK with a record number of attendees, making this year our largest event ever, bringing together customers from more than 12 countries and 50 global brands and retailers.
The Summit highlighted how Personalization has evolved moving from segmentation, which once was considered  personalization, to the need and demand for Hyper-Personalization. Hyper-Personalization is the next generation of personalization and as stated by Mike Ni, CMO of RichRelevance this means, "Three simple things; individuals not segments, shopping not buying, and understanding why someone buys not what they buy. Until now personalization has been focused on segmentation which is just basic, people are expecting that the information they share is respected, they want you to understand not just what they buy, but who they are as an individual and why they bought it".  
The summit kicked off on Wednesday with a special guest keynote speaker, and renowned author of The Iconic Advantage, Soon Yu. Soon shared what it means to create a Signature Moment for your brand (think of red soles for Christian Louboutin shoes or the jingle immediately associated with McDonald's), and how Hyper-Personalization translates into today's business. Soon noted that, "Hyper-Personalization is going beyond transactions to relationships, using personal and behavioral information to get personal with customers… enabling good friction, adding great education, engagement, and inspiration at the right time and the right place".
Throughout the day, RichRelevance customers John Lewis, Office Depot, Blue Tomato, Época Cosméticos and Swap.com took the stage to share their success stories and vision for personalization . RichRelevance CEO, Carl Theobald and CPO, Sarath Jarugula, announced RichRelevance's biggest launch to date, The 2019 Winter Launch, which included some of the most innovative and forward looking AI and interactive applications in the market. (Read more about what we released here.) The day wrapped up with deep dive breakout sessions on the topics of Hyper-Personalization, RichRelevance Experience Browser & Designer, Xen AI, Becoming a Personalization Hero, and partner sessions from Amplience and Taggstar.
At the 2019 Summit we launched a few new, key features including our Customer-Led Roundtables where customers came together to informally share their experiences and ideas around Personalization and Experience Optimization. We're also excited to share that we launched the first annual "Personalization Awards" to celebrate top customers in key categories.
The 2019 Awards and winners are… (drumroll please):
Best Use of Data Science

– This award is for the most effective and differentiated algorithm built with the Data Science Workbench™

Best Omnichannel Personalization Initiative

– This award rewards the retailer who has been able to make significant in-roads into connecting sales channels to improve the customer experience

Excellence in Personalization Application

– This award recognizes the retailer who has shown the greatest initiative to engage in personalization best practices, optimizations and/or testing initiatives

Winner: Office Depot EMEA

Most Visionary Experience Personalization

– This award rewards the retailer who has developed the most strategic personalization strategy with a full lifecycle personalization roadmap

Personalization Innovator of the Year

– Recognizing the retailer who has shown the most forward thinking, differentiated and innovative ideas and initiatives in personalization, driving KPIs
If you didn't have the opportunity to join us in EMEA this year, we hope you'll attend next year and if you're US based we'd love to see you at the NY event in May. Contact us for more details at events@richrelevance.com
What attendees are saying:
"Today was an amazing day and great opportunity to share with other industries, to view the new features coming for RichRelevance… the entire event was interesting from the beginning the vision of the product to the presentation of the retailers it was an opportunity to understand we're not alone, we have the same goals and pain points, we're all working on the same things."
"This is my second year coming, it gets better and better, there is a great deal of content, it's very engaging, the interaction between all the different retailers make it very inspiring…fundamentally this event helps us see what's possible"