Get Started With AI-Infused Marketing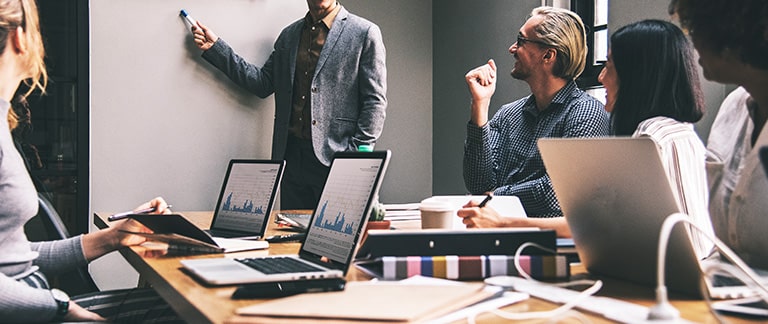 We've spent a lot of time this year talking about powering personalization for the new Experience Economy, and the need for companies to rethink their core value in a world where companies compete on the memorable customer experiences they provide, not the products they sell. Now, we can add a new number to the conversation: $800 billion.
Google's Kiran Mani dropped this stat during her recent Shop.org session on How Machine Learning Can Help You Deliver Better Customer Experiences:
"Over the next few years, $800 billion in sales will shift to e-retailers that use site personalization, and away from those that don't."
Unsurprisingly, changing customer behavior is driving this shift. Mani describes customers who are more curious (55% growth in searches for "ideas") and more demanding (33% expect personalized recommendations). Additional drivers are an explosion of customer touchpoints – up to 70 touch points over 79 days before making a purchase – couple that with the rapidly vanishing time between a customer's moment of need and the ability to act on that need and marketers are increasingly pressed to remain relevant and top of mind.
At the same time, Marketing is increasingly held responsible for revenue across the lifecycle, not simply acquiring customers, but driving engagement and conversion. So, with $800 billion on the line, marketing needs to step up and own personalized experiences on the site – and across the customer journey.
The Challenge: Scaling Marketing
However, most marketing skillsets and technologies aren't equipped to deliver true personalization. Marketers, including myself, have traditionally inhabited a world of campaigns, probabilistic segments, and experimentation. So, when faced with today's world of  exploding number of products, touchpoints and customers, marketers' only option has been to generate and test an unsustainable number of increasingly granular micro-segments by product groups and touch points … and call that an  individualized experience in an attempt to drive engagement and conversion, not to mention that elusive relevance to stay top of mind at point of need.
AI Can Help … When You Know What Problem You Are Solving
Citing back to Google's session, industry consensus is that AI / machine learning will allow marketers to tame complexity and orchestrate memorable, personalized experiences – at scale, in real time. But where do you start? I'm going to address this question in a two-part series on AI, but at the highest level, a successful AI uptake strategy requires marketers to understand what AI is good for (and when). At its very best, AI allows marketers to get back to the strategic parts of marketing complementing a marketer's creativity and human insight with machine automation. At a top level, marketer's should look at AI to help in 5 key areas:
Efficiency to setup and test multiple combinations.
Smarter decisions by detecting to granular customer signals in real time without hundreds of rules.
Speed to respond to new insights almost instantly.
Continuous performance improvements via self learning vs. discrete experiments.
Connecting the dots across the customer journey for both insights and optimizing for whole business.
AI is a whole different beast from interaction optimization. For marketers, AI is a way to take your best ideas (images, copy, offers, treatments) and find the unique combination that compels a given customer in her exact context. It is the only way to scale marketing from probabilistic segments (yours or identified by 3rd parties) to individualized treatments – and this certainly applies across B2C and B2B.
Getting Back To The Question … Where to Start?
Similar to the path of AI-infused Marketing over the last 5 years, look for areas for the most leverage in your organization.  There is a reason why Adtech was one of the first to uptake AI/ML – ton of data, ability to influence customer interactions, and a great feedback mechanism of success or failure (e.g., did they click).  Similarly, we see many jumping on Personalization AI for commerce to immediately leverage rich customer data without having to first create a data mart and build a data science team.
To determine your own AI uptake approach, evaluate three key criteria:
Where do you have the most data to fuel AI
Where AI-driven insights and real-time time decisioning can have the most impact on your marketing program by better matching customer expectations.
Finally, be honest about where you can move quickly. AI success requires you to consider the organizational boundaries that not only fragment data, but your brand's ability to deliver a cohesive experience across touchpoints you can quickly experiment with.
There is no one-size-fits-all AI strategy. Successful AI-infused marketing requires every brand to look across the entire customer journey to determine where  AI is most feasible and where it will have the most impact. In my next blog post, I will address different ways that marketers can apply AI to all stages of the customer lifecycle to create true personalization targeted to each individual shopper, as well as examples of brands like Barneys NY, HP and Lancôme who are turning AI into measurable marketing results.