AI 4 Retail Event Takeaways – New York (June 24-25): AI Swirl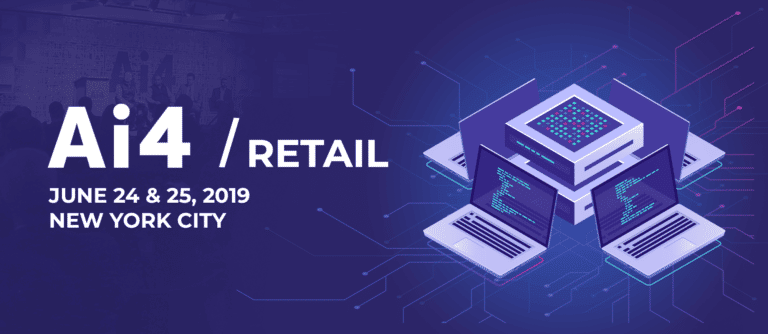 We just came back from sponsoring the Ai4 Retail conference in NYC on Monday, June 24th and Tuesday, June 25th at the Convene located in Midtown West that was a great opportunity to comment on the state of AI in retail and the key question is that most still had on their minds. Over the two days, an interesting mix of technology-savvy business execs and big data/machine learning practitioners from leading retail brands got together to discuss how AI & ML have (and will continue to) transform their businesses.
A couple common takeaways from our conversations with digital retail leaders who attended:

Confusion is still commonplace when discussing how best to leverage AI; from basic definitions all the way to implementation. An interesting stat representing the need to start to bring together AI efforts for retailers … according to Teradata, 61% of enterprises expect to hire a Chief AI Officer in 2020.
Still working on common framework for thinking about what AI means to Retail – definitions, problems it solves, and algorithms being used for different problem types
Humans may even matter more than before was a common theme —> AI will not replace but augment humans – similar to what we have believed and made a core design principle, deep merchandising tools and full transparency provide awesome capabilities for enterprises to leverage AI to accelerate human creativity. Simple illustration – the number of AB tests you would have to set up handle growing product (and service) catalogs, micro segments, exploding touch points that are common at most retailers … #personalization@scale
Most "practitioners" in Retail are still learning what works – Deep dive into the specifics of machine learning models reflecting the high level of experimentation still going on. Similar to how we continue to introduce strategies atop of the 150 out of the box, you have to continuously experiment (see our datasheet on Xen AI) find what works in what context and accelerate your AI learning curve
AI takes a village … as much as the tech people would like to try, applying AI is a companywide effort – that means not only better understanding of the business value of specific AI projects, not just shopper experience, but supply chain optimization, customer centric merchandising, prescriptive action triggers, etc.
Huge innovations happening in this industry and the AI innovation area … but for me, the biggest takeaway was that retailers need to balance pragmatic focus on digital revenues growth against building in-house algorithmic experience … be that in the business or the technical sides of your house!
For more information or any questions, and certainly if you want to hear how we could help, please reach out to personalize@richrelevance.com.