Up Next: The Best Experience Yet, Transforming the Way You Shop (for food too!)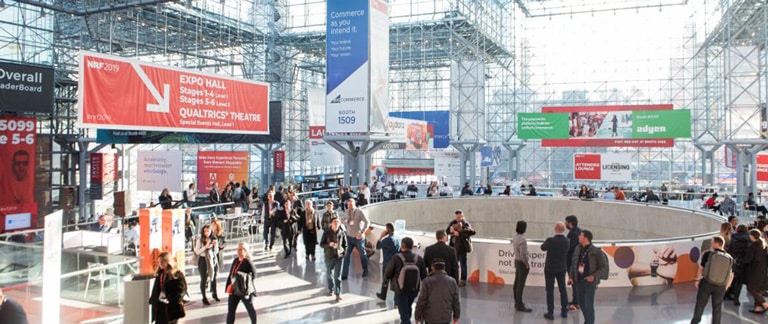 NRF 2019
It was just two years ago in 2016, that headlines everywhere were talking about the demise of retail, but this year at the annual National Retail Federation 2019: Retail Big Show, which opened on Sunday, January 13th,  NRF Chairman Christopher Baldwin, chairman, president and CEO of BJ's Wholesale Club stating what we all know to be the more accurate truth, "retail never went away", and that today the "industry is more healthy, vibrant, innovative and exciting than ever."
Over the 3 days of the show more than 38,000 attendees walked the halls of the iconic New York Javits Center to find out what's next in retail. This year the focus was on the industry's transformation, vendors showcased how retailers and brands can take their customer experiences to the next level, incorporating AI, personalization, robotics, facial recognition and various digital touchpoints. From our perspective, the show felt more alive than it has in years past, with an abundance of international brands and retailers taking time out of their weekend to be first in line to attend thought leadership sessions and meet with vendors on a Sunday afternoon. It seemed that the successful 2018 holiday season, left global brands and retailers even more excited to kick off innovation projects and incorporate new ways of engaging their consumer. For those that do not know, at NRF, you can find retail solutions and vendors to solve for your every retail need, from shopping bags to the most sophisticated cloud security systems, NRF has it all.
We noted and validated, that the overarching message was about transformation, specifically the experience of shopping. On Sunday, Sucharita Kodali, VP Principal Analyst from Forrester Research, shared insights from their soon-to-be released State of Online Retailing survey in which they uncovered four main goals for short-term investments this year, of them, most notably was to, "Improve customer experience. Most retailers who responded to the survey said they will be working on both the online and in-store shopping experiences and increasing the frequency of engagement with customers." This sentiment, was prominent throughout the entire NRF show floor, every vendor was exhibiting a technology or physical improvement that would enhance the customer experience, making some aspect easier, more intuitive or more interactive. Technology across the board showcased various ways to save time, interact better and delight a customer.
Interestingly, and noteworthy were the overwhelming discussions about how to transform the grocery experience, and how to digitize, engage and transform the traditional ways of shopping and buying food. Kroger Chairman and CEO Rodney McMullen took the stage to share how the supermarket giant plans to redefine the customer experience and transform the company with the "Restock Kroger" initiative which is comprised of various efforts including automated e-commerce warehouses, driverless delivery vehicles, and Home Chef meal kits for pickup in Walgreens drugstores.
Walmart plans to have 2,140 online grocery pickup sites, covering almost half of the US population via 800 stores by the end of their 2019 fiscal year. Walmart executive vice president and chief technology officer, Jeremy King said, "Right now, what's really working for us is groceries and grocery delivery and pickup. And we're seeing real traction with our customers; they love it. How we can make that experience even better is what we've been focused on," Walmart is also experimenting with how they can leverage blockchain technology to enhance food safety, amongst other things.
Chinese ecommerce giant Alibaba is leveraging technology to transform the offline experience, specifically the idea of food shopping and delivery allowing customer to order food on their way home and have it delivered in 30 minutes or less, guaranteed (so long as they live within a 3km radius of a Hema or "Fresh Hippo" store). They've even taken it a step further, creating a robot dining experience called Robot.He allowing customers to have their freshly purchased supermarket food sent to the kitchen for cooking which is delivered to the table by a robot.
We think NRF 2019 left everyone feeling excited and thinking about how their experience will transform the industry. We're excited to see all that 2019 brings and invigorated by the energy we felt from our fellow tradeshow attendees. 2019 is going to be a big year for what we've dubbed the experience economy and we can't wait to see what retail looks like come 2020. To learn more about Hyper-Personalization and how we're helping brands and retailers truly engage their customers, download our PDF overview here.