Holiday Grocery Shopping: My First Thanksgiving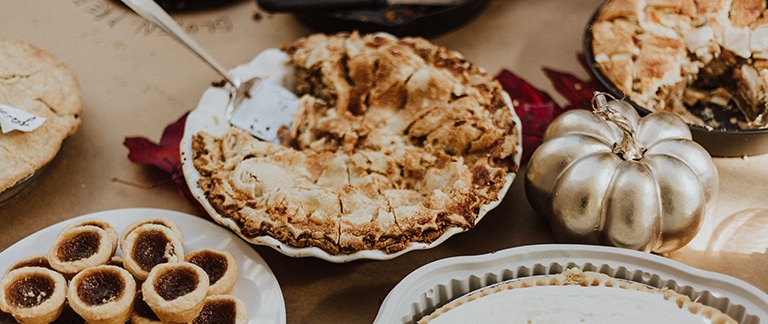 I over prepare for everything in life. I need to know in advance that things will be perfect and I'll have everything I need for whatever task is at hand. Rewind to 3 weeks ago when my husband suggested that we host Thanksgiving in our small NYC apartment. I have never hosted a Thanksgiving before, so even though the guest list was small, I immediately began to prepare.
The very first thing I did was go onto Whole Foods and order myself a fully cooked turkey. I will pick this up the day before Thanksgiving (trust me if delivery was an option, I would have opted for this). T-Minus one week to Thanksgiving, I started my online grocery order for the many other items I needed – from appetizers to side dishes to supplies for dessert. I scheduled the items for delivery the night before Thanksgiving and voila – my shopping was done. I then started reflecting on holidays past and how my mom would go to the grocery store and elbow her way down the crowded aisles with a 2-page grocery list in hand. I started to wonder how many people were shopping like me vs my mom this Thanksgiving. Where were they shopping? What was important to them in an online experience? And so a survey was born.
RichRelevance's Digital Grocery Survey, 2018 Holiday Edition surveyed more than 1500 consumers and found more than 4 in 10 Americans (44%) are like me and plan to shop online for some or all of the groceries they need for their Thanksgiving or holiday meal this year. This is more than twice as many people who shopped online for Thanksgiving groceries in 2017.
When asked why they shop online, most said they turn online for grocery shopping to save time (73%) – and 1 in 4 (26%) choose to shop online because it allows them to shop for groceries during work hours, which is exactly what I did (sorry to my boss who is now reading this, the cat is now out of the bag).
As I keep adding things to my cart before the cut off time of Tuesday at 11pm ET, I, like other Americans (43% of respondents), wish my grocer presented me with relevant alternatives when a desired item was not available and suggested the item for me (how can they be out of butter 3 days before the big day?!). I am doing a mix of pickup and delivery for my order (only because I can't get my turkey delivered). However, I would definitely preferred to have them all delivered, unlike most survey participants. Our survey found that when online orders are ready, more shoppers plan to pick up their groceries (47%) than have them delivered to their home (43%)
With my turkey cooked (thank you Whole Foods) and shopping complete (thank you modern society), I now just wait for the pickup and delivery times. The stress is over for and now I can research and print recipes in preparation for the big day. Wishing you all a healthy and happy thanksgiving.
Read the read results of the Digital Grocery Survey, Holiday Edition here.
See our Digital Grocery Survey, Holiday Edition Infographic here.
To learn more about how RichRelevance helps Grocers uplevel their Customer Experience, contact us today.